Chocolate lovers, get ready for a world of premium chocolate! If you have been to a wine tasting, you'll know this is the place to savor, sniff and taste it all AND you can get your questions answered by passionate chocolatiers!
The original and premier artisan chocolate show on the West Coast takes place this Spring at the 7th Annual San Francisco International CHOCOLATE SALON, March 24, 2013 at the Fort Mason Center in San Francisco. Chocolate aficionados, fanatics, buyers and journalists can experience the finest in artisan, gourmet & premium chocolate in one of the world's great culinary metropolitan areas.
Featuring a delicious selection chosen and curated by the Organizers, the 7th Annual International CHOCOLATE SALON participants include over 40 master chocolatiers, confectioners, wineries and other culinary artisans such as Amano Artisan Chocolates, CocoTutti, Taza Chocolate, Butterfly Brittle, FGR, Marco Paolo Chocolates, Jade Chocolates, Socola Chocolatier, Clarine's Florentines, Casa De Chocolates, Smitten Artisan Truffles, Nosh This, Amella Caramels, Sixth Course Artisan Confections, William Dean Chocolates, Kallari Organic Dark Chocolate from Ecuador, Toffee Talk, Rachel Dunn Chocolates, the TeaRoom chocolates, Guittard Chocolate Company, Poco Dolce, Plumeria Flours – cookies & confections, Marti Chocolatt, Landru Chocolates, Toffeeology, Neo Cocoa, Marich Confectionery, Saratoga Chocolates, Mission Blue Confections, Snake & Butterfly, Friend in Cheeses Jam Company, Earthbody, Farm Fresh To You, SpringLoaf Catering, the Winery SF, Quady Winery, R&B Cellars, Jerk'NPickle artisan beef jerky, Vibrant Rioja wines from Spain, Tipsy Tea, ChocolatRouge wine, Chocolate Shop Wine, Threshold Wine Company, Lyra Wine Import, Rosa d'Oro Vineyards, Spicy Vines, Alquimia Tequila, Raff Distillerie , the Bread Project, and more.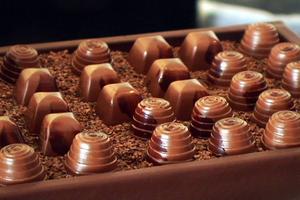 Salon highlights feature chocolate tasting, demonstrations, chef & author talks, wine tasting and ongoing interviews by TasteTV's Chocolate Television program. (Salon Entry includes all chocolate & wine tastings, demos, etc.).